PST to Notes File Converter ? A Crucial Gift!
Converting Email Client is a Common Scenario: Conversion from one email client to other is common these days because users find one email application not suitable for them after a period of time and this takes them towards other email application. Same can be happened with MS Outlook application. You are suing MS Outlook and now leaning towards Lotus Notes. The reason might be that you are finding Lotus Notes email application more applicable and suitable for you.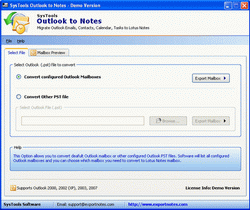 Get answers to all the following questions creeping in your mind?
How to convert PST files to NSF?
Can I open PST file in Lotus Notes?
How to import Outlook contacts to Lotus?
How can I copy Outlook folder in IBM Lotus Notes?
How to get outlook in Lotus Notes?
Is there is any way to move Outlook mail to Lotus Notes?
Is Outlook to Notes Transition possible?
Download PST to Notes File Converter for PST to NSF Conversion
FREE Demo Download of Outlook to Notes ? Shareware Software:
The trial version provided on our website for free of cost has the capiblity to convert 15 items from each mail folder. The use of the trial version is recommended to the viewers, so as to help them get acquainted with the nature of working of the software. The original version of the Outlook to Notes software is available for $129 on Personal License and $229 on Business License.
Why Interested in Obtaining Lotus Notes? You now think that Lotus Notes would prove to be stellar performer email client that can solve your purpose in a better way. You want to use Lotus Notes so you required transferring PST to NSF contacts, so that you can access PST data into NSF. To import Outlook mail to Lotus Notes, use professional PST to Notes file converter. Using Outlook to Notes software, you can convert Outlook inbox files to NSF. The thing you are required to do is to follow illustrative steps of this product for effective conversion.
Steps for Correct Conversion:
1. First buy Outlook to Notes software at fair price
2. Then, open Outlook to Notes software on your system where conversion is required to be performed
3. Click Export Mailbox button to start the process to export or to import Outlook mail to Lotus Notes.
4. Then click Start Conversion button to convert Outlook mailbox to Lotus Notes.
5. Software will ask the location to save converted PST file, select the location where you want to save the converted NSF files.
Once you get done with these steps you are on the right track as you can use Lotus Notes without any issues now.